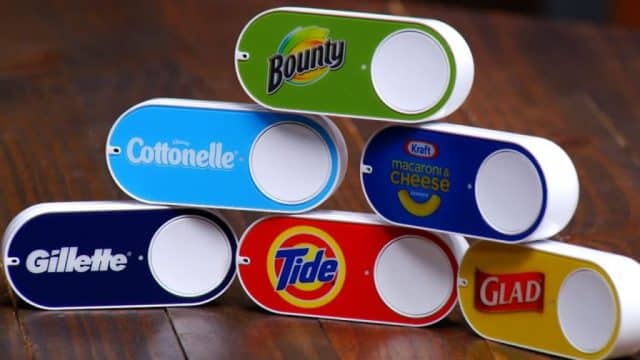 Amazon just launched its Dash buttons in the U.K., selling each for £4.99. With one push, customers can instantly make an order of the product linked to the specific button.
The wireless button is one of Amazon's many moves to lock customers into its Prime subscription service, threatening the place of the traditional supermarkets in a family. Dash buttons are powered by Amazon's Dash Replenishment Service (DRS), which has been built into some household appliances.
The debut of Dash buttons can also be seen as Amazon's another presence in IoT business. Daniel Rausch, the Director of Amazon Dash, said, "Dash is a super accessible, practical, useful way to smarten up their homes, and that's the kind of reaction we've had from customers in the U.S."
However, there are some criticism. Raz Godelnik, assistant professor at Parsons School of Design in New York, said, ""I think that IoT could be a force for good, but [will] also increase unsustainable consumption." In response, Amazon explained, "Dash buttons are fully recyclable and Amazon will cover the cost of recycling."
References
Samuel Gibbs, "Amazon Launches Dash Instant-Order Internet of Things Buttons in the U.K.," The Guardian, August 31, 2016.
The Guardian, "What is the Environmental Impact of the IoT Economy?," September 2, 2016.