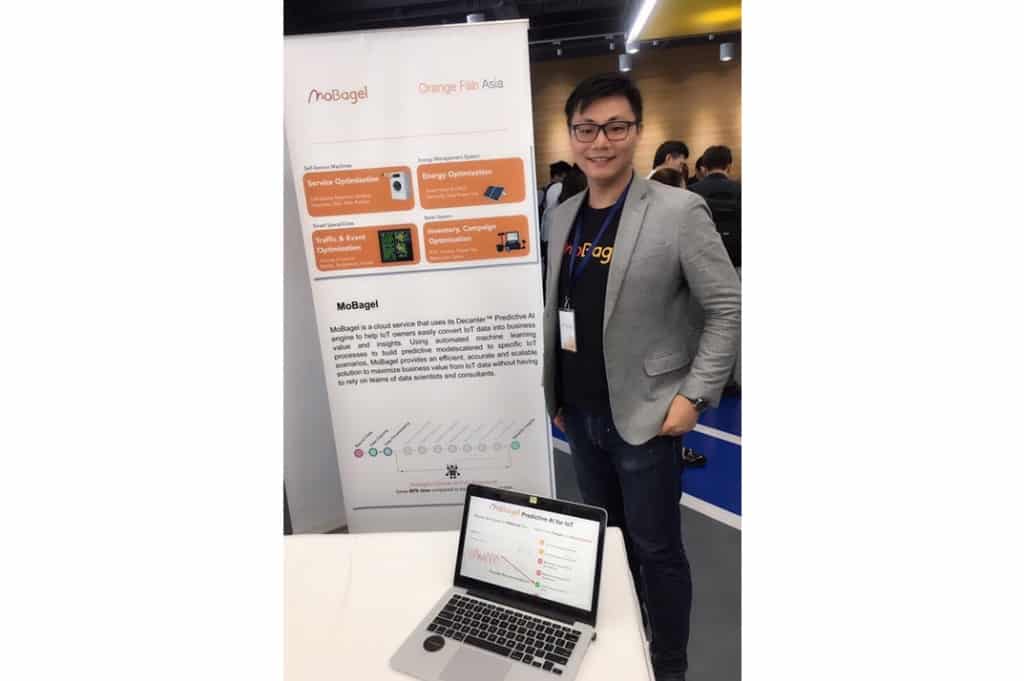 In this interview, you will learn how MoBagel applies predictive AI to IoT enterprises and assists 

with

 precise decision making.
Adms believes that IoT can collect data from all connected devices, no matter if it's a machine, human behavior or environmental change. "We want to know more about this world through IoT, so we started our big data analysis from IoT," said Adms.
Data Is a Key to Assist Judgement
In 2015, MoBagel carried out their service formally, turning the data collected through IoT into valuable business decisions.
"IoT is a breakthrough of big data," said Adms. In the past, experience is the main indicator while making decisions, but in the IoT era, data collection has rapidly proceeded with the improvement of software and computing power. Data nowadays can have higher accuracy and density, and it can be collected continuously. In smart home, when users can attain more data from their devices, their habits and lifestyle can be predictive.
The progress brings can assist human decisions and judgement. When database is sufficient, machines can provide decisions even more precise than human experience. MoBagel started practicing their projects with some clients. The effect were massive and valuable for businesses, and has helped many companies to create millions of revenue.
All Controllable Things can be Predictable

MoBagel offers enterprise services such as demand forecast and predictive maintenance. With the data analysis of user behavior, businesses can develop a considerate service and ideal campaigns to increase user loyalty and attract more customers, "you know what the customers want and what they don't want before it really happens, so the preparation and adjustment can be done right on time," said Adms.
As for predictive maintenance of business equipment, companies can be well-prepared before machines really break down. This reduces the loss while the machines are waiting for maintenance or renewal.
Potential Smart Home Needs a Breakthrough in Business Framework

MoBagel has worked with Philips lighting. Collecting the data from the built-in motion sensors in the lights, the lighting control for whole building can be accurate and energy-saving. Also, several smart home building projects in Japan cooperated with MoBagel to enhance energy control.
Adms predicted that a power network will be a trend for future smart homes. When every household is equipped with its own power generator, the energy supply can be simpler, and MoBagel's service can use the data for improving power utilization and efficiency. Also, with voice controls like Amazon Alexa or Google Home, he considered smart home system a steward, and every device knows the daily routine and habits of their homeowner.
From Adms' view, the greatest potential of future smart home companies is to break through the business model from one-time sales to whole-home rental service. When it comes to a long-term rental service for every home appliance, both providers and consumers value the living experience and the comforts of homeowners. "MoBagel can analyze the data collected from all smart homes, and help companies develop a better service for end-consumers and a predictive strategy for themselves. In this way, smart home market will be totally different," said Adms.
The Background of MoBagel

MoBagel is a SoftBank Innovation Program startup in Silicon Valley. With the connection with SoftBank, MoBagel started multiple cooperation in Japan. Now it has its major markets in Japan, the US and Europe, and has already cooperated with Nokia, Panasonic and Philips.
MoBagel has partnered majorly with telecommunication, equipment and consulting companies. Companies can reach out to MoBagel for a free consultation on their device data and how it can benefit from MoBagel's AI.
References
1. Samantha Shen (Retrieved from https://mysmahome.com/company/38581/special-interview-mobagel-monetize-data-create-business-profit/
Image Source: https://mysmahome.com/company/38581/special-interview-mobagel-monetize-data-create-business-profit/