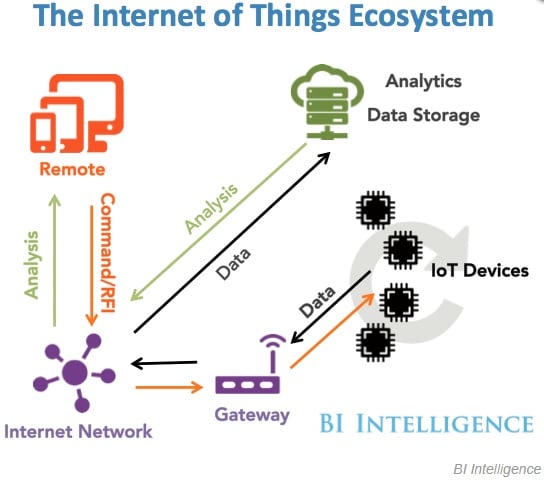 Many experts believe that this emerging technology will forever change the way businesses, governments, and consumers interact with the world.
There is some real hype behind this IoT tech; it has been called "the Next Industrial Revolution" and "the Next Internet." Why? Well there are several major reasons which you can check out below.
According to estimates, there will be 34 billion devices connected to the internet by 2020. This is up 10 billion in just 5 years from 2015. The IoT devices will account for 24 billion, while traditional computing devices (e.g. smartphones, tablets, smartwatches, etc.) will comprise 10 billion.
Over the next five years, close to $6 trillion will be spent on IoT solutions.
Businesses will be the primary adopter of IoT solutions. From their perspective, there are essentially three ways that the IoT can help turn out higher profits. First by lowering operating costs; second by increasing productivity; and third by expanding to new markets or developing new products.
Experts maintain that governments will be the second largest adopter of IoT technology. Effective governments aim to increase productivity, decrease costs, and improve the quality of life for citizens.
Lastly, general consumers are predicted to purchase a large number of devices and invest a significant amount of money in IoT ecosystems. Although, it is clear that they will lag behind businesses and governments in IoT adoption.

The Internet of Things revolution is here and happening. This is an exciting time with tons of innovative, fresh gadgets and ideas to capture your attention. If you want to stay ahead of the curve on up-and-coming technology, make sure to keep your eyes on IoT tech!
References: Business Insider – John Greenough and Jonathan Camhi – Here are IoT trends that will change the way businesses, governments, and consumers interact with the world
http://www.businessinsider.com/top-internet-of-things-trends-2016-1
Image Source: http://www.businessinsider.com/top-internet-of-things-trends-2016-1